TRUMP SAYS HE 'WILL BE ARRESTED' ON TUESDAY, URGES AMERICANS TO 'PROTEST, TAKE OUR NATION BACK!'
Now engaged in yet another legal dispute is President Donald Trump. Authorities in New York are making an effort to reopen an earlier investigation into his relationship to Stormy Daniels after numerous unsuccessful attempts to arrest and convict him on multiple dubious grounds.
Read more: DONALD TRUMP VOWED TO 'TOTALLY OBLITERATE THE DEEP STATE,' AND NOW THE MANHATTAN DA IS POISED TO HAVE HIM ARRESTED
According to the New York Post, this prompted the Manhattan district attorney's office to schedule a meeting for the following week to examine the possibility of handcuffing and detaining President Trump.
No president, current or past, has ever faced such political opposition or been charged with a crime.
Even Fox News host John Roberts addressed the subject, saying that President Trump might be restrained, according to Raw Story.
According to a Nationwide Issues study published by The Federalist last year, 79 percent of Americans think the legal system is divided into two tiers.
On Friday, Rep. Marjorie Taylor Greene, R-Ga., tweeted about her opposition to the "two-tiered justice system in America," noting politicization of the DOJ and the FBI (which is currently controlled by the Democrats).
Read more: TRUMP POSTS TO FACEBOOK: 'I'M BACK!'
Saturday, President Trump responded with a two-page post on his Truth Social account.
He stated, "AMERICAN PATRIOTS ARE BEING ARRESTED & HELD IN CAPTIVITY LIKE ANIMALS, WHILE LEFTIST THUGS ARE ALLOWED TO ROAM THE STREETS, KILLING & BURNING WITH NO RETRIBUTION."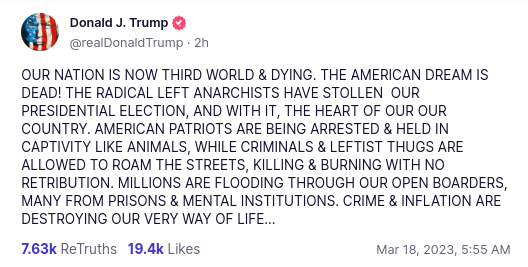 He proceeded by criticizing the "CORRUPT & EXTREMELY POLITICAL MANHATTAN DISTRICT ATTORNEYS OFFICE" for continuing to pursue him despite an increase in crime.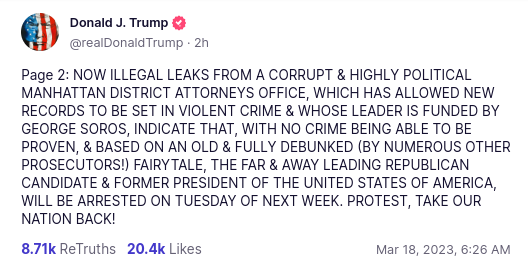 At the end of his statement, the 45th President of the United States confirmed he "WILL BE ARRESTED ON TUESDAY OF NEXT WEEK." He encouraged his supporters to "PROTEST, TAKE OUR NATION BACK!"