Trump is getting more support than ever in 2024.
Trump is getting more support than ever in 2024.
Trump's campaign for reelection in 2024 is becoming more popular than ever. He is leading Biden in the polls despite being criticized by numerous career politicians, harassed by the media, and even indicted on dubious legal grounds.
Read More: BYRON DONALDS STRONGLY ENDORSES TRUMP: 'TRUMP IS THE RIGHT CHOICE FOR AMERICA'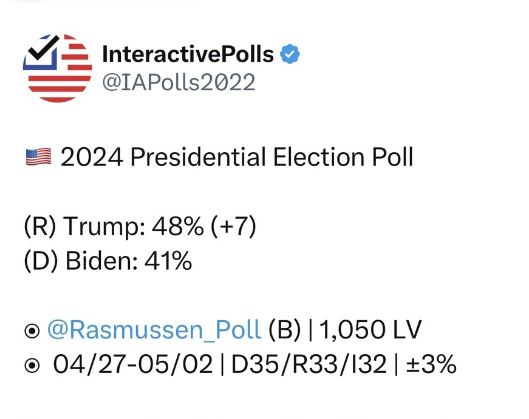 He led Biden by seven points in a recent Interactive Poll conducted over the week of April 27 to May 2 and released on Truth Social.
According to a recent article in The New York Post, Biden's approval rating has reached a record low. The performance of the Biden administration is only supported by 37% of American citizens, while a staggering 59% disapprove of the current administration.
As inflation, rising gas prices, and the instability of the dollar all threaten to disrupt American lives, Biden's weak economy is being felt across the country. Taxpayer money worth billions has been used to support Ukraine's battle against Russia, which is escalating the risk of nuclear conflict.
According to Breitbart, Biden's position on the debt ceiling has been a constant source of contention for conservatives trying to control government spending.
Additionally, the border crisis has become a significant worry. According to research by the Heritage Foundation, the Biden administration has prioritized the needs of illegal aliens over the interests of American residents by diverting billions of taxpayer dollars.
Read More: DONALD TRUMP GETS WARM WELCOME IN SCOTLAND
Furthermore, the scope of Biden's alleged crimes is so extensive that, according to the New York Post, at least 12 members of his family are under investigation for their possible involvement in his criminal enterprise.
The polls are reflecting all of these problems and the people's frustrations with them. Meanwhile, President Trump is campaigning for reelection with a healthier record and a commitment to put "America First!"