Trump EXPLODES at 'Milquetoast' Charges Against Hunter Biden
'A MASSIVE COVERUP': TRUMP CALLS OUT HUNTER BIDEN'S MILQUETOAST CHARGES
Regarding dubious charges, President Trump is engaged in numerous legal battles. According to RSBN, Hunter Biden has received a plea deal for three infractions that do not directly relate to his purported activities as an unregistered foreign agent.
This is because, according to RSBN, the House Oversight Committee has information implicating both Joe and Hunter Biden in a bribery plot. Americans seeking justice have been incensed by the plea agreement, and on Tuesday, President Trump expressed his own annoyance with the circumstance.
On Tuesday, he posted to Truth Social stating, "The Hunter/Joe Biden settlement is a massive COVERUP & FULL SCALE ELECTION INTERFERENCE "SCAM" THE LIKES OF WHICH HAS NEVER BEEN SEEN IN OUR COUNTRY BEFORE."
Read More: DA Bragg in hot water over Trump case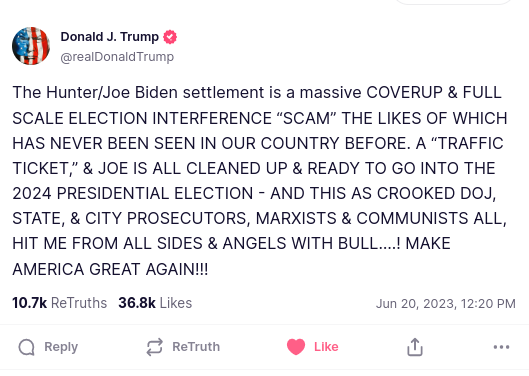 According to the Hannity media room, President Trump further expounded on the matter when speaking to Fox News. He remarked, "They gave him a traffic ticket and everything was cleared up."
Read more: Trump's War on Big Pharma: Will He End Global Freeloading?
When it comes to their thorough investigation into considerably more serious crimes involving Hunter Biden and other members of the Biden family, the FBI has struggled to provide information to the House Oversight Committee's inquiry into the Biden family crimes via RSBN. Due to this, claims of a two-tiered legal system have been made.
In his interview with Fox News, President Trump added, "It is a disgrace to the system, it is a disgrace to America, it is a very unfair situation, it is prosecutorial misconduct, and it is election interference — all wrapped up into one."
Read More: Trump's Secret to Winning
His further post on Truth Social was lengthy. In an effort to highlight the blatant unfairness in the legal system, he made a comparison between his predicament and Hunter Biden's. THIS AS CORRUPTED DOJ, STATE, AND CITY PROSECUTORS, MARXISTS & COMMUNISTS ALL, HIT ME FROM ALL SIDES & ANGELS WITH BULL…!
Yet, despite it all, President Trump concluded by focusing on the nation and his goal to "MAKE AMERICA GREAT AGAIN!!!"